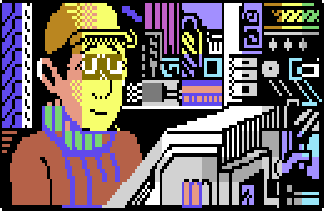 There are a few questions I get asked regularly (read: more than once, the site is not that popular :-).
1. How do I get past the start screen?
Set up Joystick number 2 on the C64 emulators, number 1 doesn't work
press the fire key
2.
Why does the emulator hang after finishing crew selection?
When "Accept crew" screen appears, don't press fire
Select disk 2
only then press fire
...or get yourself one of the 1 sided disk images.
3.
How do I select disk 2 (CCS64)?
Alt+8 gets you to the disk menu
Use arrow keys to navigate to the folder with your disk images and select the second PSI 5 disk
F4 selects the disk and goes back to the game
4.
How does the online version work?
Make sure Javascript is enabled. Click on the game window to to load and play.
There is no sound, and no crew selection.
Use cursor keys and Return to navigate, or use the first letter of the menu item you want to activate.
5.
How do I load a tape image (WinVice)?